Well, I have told you a little about me already. I started my Pet sitting buisness in November of 2001. I wanted a flexible job working with animals and more time to spend with my family. Some jobs I have previously worked at are fed-Ex, Hollywood pet star(Asst. Mgr.), Noah's ark boarding kennels(Manager) at a vets office in Bartlett, Claridge kennels(now called fox ridge animal hospital bording facilities)and Berclair animal Hospital. I currently own one Horse, two dogs, and one cat and a large cichlid tank. I have worked with animals through out my life.
My husbands name is Billy. We met at FedEx and became best friends, and after about a year of knowing each other, got married on May 13th 2000. We bought a house in Berclair in memphis. We get along wonderfully and wouldn't know what to do with out each other. Our first child was born on September 19, 2002. His name is
William Ray Godsey
.
We both work on computers, build new computers and build websites(example of a site weve done:
http://ibewlocal1288.com
). Our computer company is called
Pipe Dream Computers
. We like to go camping, hiking, horseback riding, and enjoy listening to music. . We also like to spend time with our families and friends.
So now that you know a little more about us,
Call us and let us get to know you!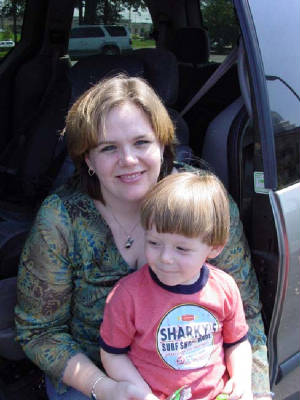 Heather & Will
Don't forget to sign our guest book!